HOW TO CONQUER THE MOUNTAIN
Many times, our journey through life feels it's like a trek up some daunting mountain.
You know, some epic Everest, Kilimanjaro and K2 kinda slog.
Getting from A to B is damn tough.
Nothing good comes easy – and don't we all know it.
While a tough journey is an undisputable fact of life, unfortunately, way too many of us just make things much more difficult for ourselves than we need to.
You heard me – we just screw things up worse, all by our lonesomes.
When faced with adversity, we become our own worst enemy.
How do we do that?
We amplify our own problems ("This is way too much for me, I can't take it!")
We put up our own barriers ("I can't do this, it's not going to work anyway!")
We don't trust our own abilities ("I really can't handle this, I just am not good for this anyway!")
And, ultimately, if left unchecked, we kill our own chances of success simply by telling ourselves we do not deserve to succeed.
This is something I see happening time and time again to way too many people – the slow, painful derailment and the quiet, voracious loss of the joy of life.
It's actually one of the main issues I discuss with my clients – how to stop being our own arch nemesis.
And this is how you get someone to the happiness they deserve.
Because happiness doesn't really have to be that difficult.
Remember – EVERYTHING we deal with in life happens by our own design.
We love blaming others for our inadequacies, but, at the end of the day, they are OUR inadequacies, born of our complacencies.
That means it's all entirely under our control.
(Yes I am calling YOU out – just in cased you failed to notice.)
The one thing you might not have control of might be disease – but then, you have complete control over the way you handle it.
Let's put things into perspective.
Just yesterday, I had one client tell me not entirely everything that happens to us is under our control.
He told me he had been injured while riding a bike because of someone driving a car too close to him.
So that wasn't his fault – it was someone else's carelessness.
And he had to deal with the injuries.
Sorry to be a party pooper dude – but if you decide to ride a bike, you are agreeing to utilize a much less safe form of transport.
It's an inherent risk in the decision you have made.
If you crash – or some ass crashes into you, as was the case – then the odds of getting injured are far higher than if you were in a car.
I have nothing against bikes – hell, give me a chopper any day over a car – but that decision comes with its own price tag.
So time to stop the finger pointing – gets old really quick and gets you nowhere really fast.
THE MOUNTAIN IS YOURS
So here is one thing you can do to make your journey easier.
It's all about how you face the mountain.
The trick is – never look up at where you are going!
Despite anything you have been told in your life, the destination up there is never the true focus of your journey.
Because the mountain is always bigger than you are.
It will always beat you if you keep on thinking about how much higher you have to climb to get to the top.
The way to conquering the mountain is always looking down.
To see how far you have come.
How much you have accomplished.
How many obstacles you have overcome.
It's the addition of all those little goals, and the experiences they gave you.
Because, when it really comes to what Life is all about, it's the journey that counts.
It's what we learn while we grow.
How we feel while we learn.
And how we affect the lives of whom we touch as we make our pilgrimage.
In this way, we can improve and become better versions of ourselves, every single day.
The vital difference is that the journey itself up the mountain becomes our purpose.
It not only shapes our life, but it becomes our life.
This means that we will fall completely in love with what we do, where we walk, where we go and who we meet along the way.
And THAT is what loving Life is all about.
It's all in the journey.
Reaching the summit is only the natural culmination of a wonderful expedition.
Changing our outlook in this way will completely reverse how we look at Life –and how we experience it and enjoy it.
Instead of making the journey a necessary evil to get to a tough goal, the journey itself becomes to goal.
And we can enjoy every second of it.
So always look down at where you have come from.
Make the beauty of your life become the collective sum of every single step you decide to take in the right direction.
And that, my friends, is the true way to conquering the mountain.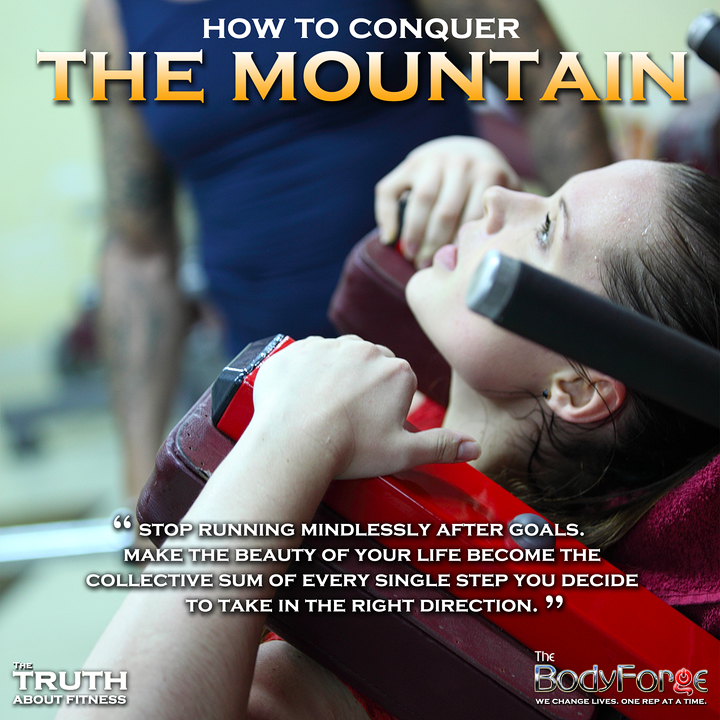 Comments
comments