A TRIBUTE TO MALCOLM YOUNG AND DEMENTIA SUFFERERS WORLDWIDE
For the last 25 years, ACDC's music has been the flick of the switch to every single workout I have done.
I have never hit the iron without at least one (or ten) of ACDC's songs blasting hard enough to shake your foundations.
Not. Once.
That means they have also been hell's bells to the tens of thousands of clients that have trained with me or been coached by me over the years.
Their signature power chords and iconic rock riffs have raised to the Nth degree every pulverising rep we have smashed out.
Without a doubt, ACDC have been the soundtrack of one to the most significant part of our lives.
When they said "If You Want Blood, You've Got It", they weren't kidding around.
On any given leg workout, when it felt like a highway to hell, they just made us shake a leg.
Squat sessions were simply a baptism by fire.
In our quest for that big gun, they made sure we could shoot to thrill.
It's safe to say we could not have done it the same way without the Thunder From Down Under.
Sadly, with the release of their 16th album "Rock or Bust" in 2014, we learned that Malcolm Young, one of the band's founding members, was suffering from dementia and was unable to play any song on the album.
This makes it the first, and only album in ACDC's history not to have Malcolm on the recordings.
Simply because he could not remember the riffs and the music that he himself had written.
Dementia is a devastating condition that can strike anyone, anywhere.
It manifests as a decline in mental ability that is severe enough to interfere with daily life.
In Malcolm's case, it took away his music from him.
However, the man who has been called "the greatest rhythm guitar player of all time" has left his music for generations to enjoy.
#Unforgettableriffs – 89fm (english) from Agência Africa on Vimeo.
This video tribute by Brasil's 89FM rock radio is a moving anecdote to how even those suffering from dementia like Malcolm can still enjoy his music.
All those interviewed here suffer from Malcolm's condition.
We wanted to share this with all our BodyForge fans and all fans of great rock music worldwide, as both a tribute to Malcolm and an acknowledgment that something needs to be done about this terrible condition.
Malcolm, thank you for all the massive power chords, the shattering ACDC sound and the incredible rock music you left for us all.
Your legacy will never be forgotten.
For those about to rock, we salute you!
Share this with the world!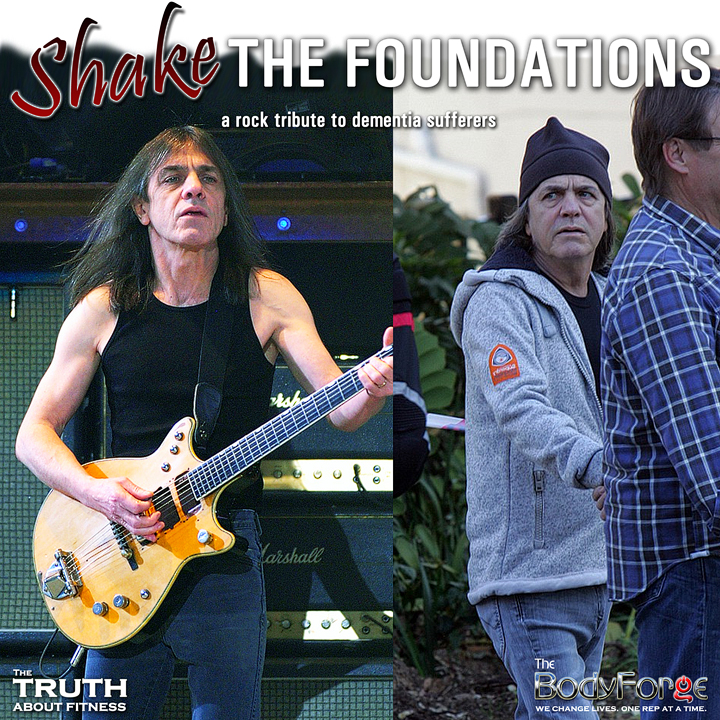 Comments
comments