I never thought it would happen in my lifetime…but it did.
The Azure Window is no more.
And with it, the little bay of Dwejra – indeed, Gozo's coastline – will never be the same again.
After withstanding the pounding ravages of the merciless sea for millennia, the majestic structure that was one of Gozo's most-recognizable icons finally gave way during a violent windstorm on the early morning of 8th March 2017, disappearing into the foaming blue abyss beneath.
I have fond memories of The Azure Window being filmed in Clash of the Titans (1981) and The Count of Monte Cristo (2002).
It also featured in the television miniseries The Odyssey (1997) and, in its final big screen appearance, for Danaerys Targaryan's wedding to Khal Drogo in the first season of HBO's TV series Game of Thrones (2012).
But now, there is nothing left. Total annihilation.
It's as if the Window was never there.
No more tourists taking innumerable pictures and clambering all over it in blatant disregard for the trespassing law.
No more daredevil jumps from its death defying apex by thrillseekers.
No more rhetorical arguments about how long it would last and how much we need to preserve it.
As always, Mother Nature has had her final say.
And when Mother Nature speaks, it does so with terrifying decision and irrevocability.
Goodbye Azure Window.
You will live forever in the tales I will tell my grandchildren.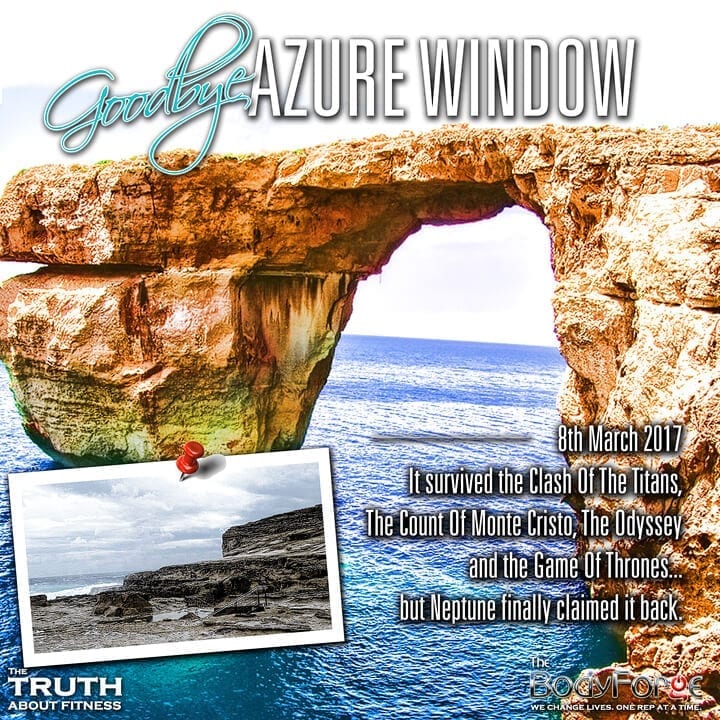 Comments
comments