MAKING MEMORIES WITH DION HAWLEY
The one thing that makes The Forge a special place is the little community we have managed to build.
We're not just a place where people come to workout – we're an intriguing collection of friends too. Different people sharing a common interest – our love for a healthy lifestyle.
Each one of us comes with our own particular character traits, our own nuances our highlights and, of course, our shortcomings, but all of us bond in some mysterious, magnetic way to contribute to the colourful tapestry that makes The Forge absolutely unique.
This is no ordinary gym. This is the place where life lessons are learned, friendships are forged, discipline is developed and people become better versions of themselves every single day.
It's a molten, fiery crucible of Life where not a single day has gone by without a smile.
And it's about memories made for a lifetime.
Take Dion for example. He walks into The Forge looking for "a place to workout". What he gets is a new lease on life, a new collection of close-knit friends, a collaboration on some incredible projects and great stories to tell the grandkids.
Here is one of them.
=========================================
"THE DAY I TOOK THE BUS HOME"
by Dion Hawley
A few months ago I had to step away from my Re-Invention program at The Body Forge as I had to travel for work.
Man, I had only been there a few weeks, and I was feeling great. You can't justify The BodyForge by calling it merely a gym. It was like home away from home. I had met some genuinely good people there. I was a slim, trim, mean little machine. I was feeling and looking better than I had in years. Stepping through The Forge doors meant Life's problems had to wait outside (I think it is a membership requirement). As Don puts it, time at The Forge was exclusively Dion Time.
Re-Invention does one thing and it does it exceedingly well – it takes you from wherever you are in your life and gets you to a better place.
Before I left I promised Coach Don, and Coach Toni, that I would stick to some sort of regimen in my absence, so that when I returned I could get right back in to it.
Well….. a few weeks away from Re-Invention, and I jumped right into the PRR Program – that's Pizza, Rum, and Regret.
When I returned to the Island, I tried to hide from Coach Don and Coach Toni, as I knew that there was some serious work to be done to get back to where I was before I left. Yes, I'm ashamed to say it…I hid away.
Well, I tried to at least.
Fortunately for me, the dedication to their client family is strong, and I couldn't hide for long as they went out of their way find me and get me back. It seems that Coach Don has supernatural powers and he can tell if you have snuck a cookie in a dark closet somewhere, smelt someone else's alcoholic beverage without drinking it and even find you hidden in a rice bowl in China.
There is no excuse you can give this man that will allow him to let you not push yourself beyond your self-imposed limits.
And he doesn't just push you, He will be there to support you all the way, motivate you exactly when you need it, and believe in you even when you don't believe in yourself. This man gives you the best of himself without question. Knowing I was in the best of hands, I made my return to The Forge.
The first day back to routine was intense. It was leg day, and coming from a man who has two sets of chicken legs, training legs with Don is no easy task. The workouts last roughly an hour and a half and they are a nonstop torture of exquisite excellence. Don never pushes you beyond your limit but he has an amazing way of asking for the best of you…and getting it.
It's an ability that puts him in a special place for someone like me. He's my Coach.
By the time we finished, I was soaked from head to toe in a steaming mix of 15 to 21 year Rum and Grease sweat. I walked to the bus stop with a swagger that would have made a cowboy proud (oh OK, it's really hard to walk properly after leg day OK?) and boarded the local bus. It filled up in a few minutes with homebound locals, and the driver turned the key, gunned the engine and we rattled off.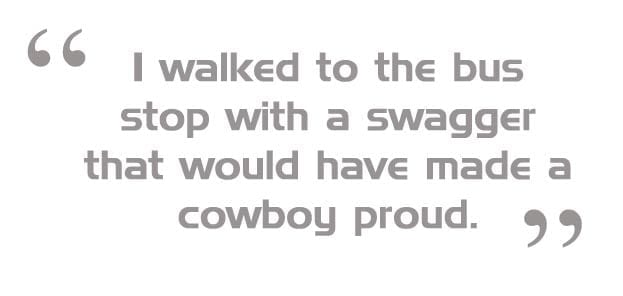 Thanks to Don, my body furnace was going in high gear. About half way through the ride home, the bus driver started wiping the windscreen down to see where he was driving as I was fogging it up pretty good. It didn't take passengers long to realize that they had The Human Torch riding along with them.
I couldn't understand what they were saying in Gozitan but it was pretty obvious from the looks that they were remarking about how the condensation of my sweat was making the bus fog up like the set of The Thing.
The best part was when I had generated enough vapor to actually condense on the ceiling of that old metal bus to drip on a young lady a couple of seats up. Her shrieks were weirdly satisfying.
I actually should have asked her for her ID, as the alcohol content was probably illegal in those droplets.
As we arrived and I exited the bus, I did it with a jovial smile. A smile of joy, because I knew that in those drops of sweat dripping on the passengers from the bus ceiling, I was not only leaving bad habits behind, but was making positive change for the future ahead. (And making people shriek is fun too!)
Comments
comments