HOW TO HAVE YOUR CAKE – AND EAT IT TOO (IN THREE SIMPLE STEPS)
Here is some New Year wisdom, Don's style.
Let's do something different this year. (You know I love doing things differently. It's how I do everything in my life. )
Yes, I emphasize being different at the start every year (well, I talk about it nonstop every day really). But, hey, you can never emphasize something this important enough.
So – listen up. I want you to win this year. It's absolutely within your grasp to do so.
Cake on the table is great. Cake in your mouth…well, you just can't beat that with a stick, can you?
OK, here is what you need to do.
This year – DON'T MAKE NEW YEAR'S RESOLUTIONS. Just don't.
Those things don't last. They never do (and we all damn well know it because we have all done it innumerable times thinking they are magic wishes).
So spare yourself the crap and the disappointment this year. Don't set yourself up for failure.
Try this instead.
STEP 1 – SET UP YOUR TARGETS
Set up THREE goals.
Yes, I said THREE. That's it. No more. Just three of them. Three important things you want to achieve this year.
Make each one of these very clear and very defined. Use exact numbers.
Don't say "I will read more this year." Say "I will read one book a week/ every 2 weeks/every month."
Then make an exact list of the books you plan to read (52 books if one per week or 12 if one per month). Write their titles down. Yes, use a pencil and paper damn it. No fancy stuff.
Stick that paper somewhere where you can see it every day. On the ceiling above your bed or on the wall in front of you in the toilet so it is the very first thing you see every morning.
In this way, you just can't miss the damn thing.
Each goal must have a deadline of course. A day of reckoning.
The difference between goals and dreams is, after all, a deadline.
Now make sure, make ABSOLUTELY sure, that that goal is done and dusted by deadline day. No two ways about it. It needs to be finished.
Give it a sense of urgency.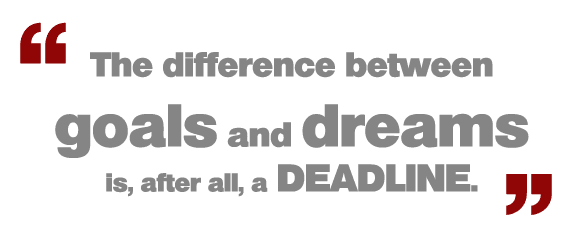 STEP 2 – MARK YOUR VICTORY
As soon as one goal is done – celebrate a little.
Do something special. Do something that marks it down as a victory. Give yourself a little treat.
It's OK to do that. Marking down an occasion makes it feel like an accomplishment.
And it is. You deserve it.
So treat yourself a little.
STEP 3 – BACK TO STEP 1
Then, IMMEDIATELY – write down another goal and stick in there.
Yes – waste no time. You've celebrated. Now, back in the game.
Same deal as before – absolute clarity, exact detail plus a deadline.
There is no need to make huge resolutions. No need for cataclysmic changes.
These goals need to be just things that you want to achieve. If the goal you have in your mind is huge, break it down into little goals and knock them off one by one.
TAKING CARE OF NUMBER ONE
Here is another example. So you want to regain your health this year right? Burn some of that belly fat off, get shapelier legs, tighter arms, perhaps even that impossible six pack – in a few words, feel good about yourself again.
You know what I'm talking about. Without your health, you are nothing. You can only give if you have abundance.
Here is your goal.
Make an appointment with a coach tomorrow. I said a coach, not a personal trainer. Personal trainers are a waste of time. All they do is count your reps.
And make sure it's not just any coach either. Find the best one in the business.
Yes, tomorrow. 6pm. Just get it done. Go and talk to a professional.
Just like that.
Don't hesitate. If you do, you're screwed. If you balk for even 5 seconds, then you're dead meat. Your brain will start to throw up doubts and you won't do it.
So don't overanalyse. Just get in there and pulverise.
(Yes that's the poet in me.)
THAT'S HOW WINNING IS DONE
It doesn't have to be pretty and it doesn't have to be perfect. Perfection is the mother of failure.
As long as you are stepping forward, that is all that matters.
And that is what I wish for you – imperfect progress.
Now go in there and GET IT DONE.
And if you want a head start, just click here. We'll help you jumpstart your health in the perfect way.
It's time to rock the house.
Comments
comments