"THESE GUYS ARE SPECIALISTS!"
My name is Emmanuel Cauchi and I hail from Australia.
This is my shoutout to the amazing guys at The Forge.
Due to my hectic travelling schedule, I've actually been to a lot of places and worked out at gyms all over the world.
However, no place I have been to has impressed me and pushed me to my limits as much as The BodyForge has.
I know it sounds like a line but bear me out for a second.
First off, I was made to feel completely welcome from Day 1, which, if you move around from gym to gym, will instantly make you know you are in a special place. It's tough to find a facility where you are instantly accepted as one of the crew and put completely at ease.
Secondly, I also found it remarkable how much information you can pick up here. Even on my first day, I was amazed at the sheer amount of knowledge bombs being dropped into my lap.
After a consultation, I opted for the Re-Invention, which is the signature coaching service offered at The Forge.
Even after just the first workout, I could feel the difference.
My coach Tony is extremely attentive and patient, and nothing is beyond his consideration. Workouts are sharp, focused and tailor-made for what I want. I can feel the bodyparts we are supposed to be hitting as opposed to just training and hoping I am doing something right.
People are constantly commenting on the improvement I have made in such a short time.
In just two months, I have burnt off more fat and gained more muscle than I have in the rest of my training years. I look at my arms today and I go WOW. It sounds like an exaggeration but it's completely true.
Hitting The Forge was the best decision I made during my stay in Gozo.
Re-Invention is not just a workout routine.
It goes so much deeper than that.
There are gym instructors, then there are trainers and there are coaches.
Then there are specialists – and that's what these guys are.
I would like to thank all the crew at The Forge for an unforgettable experience.
This goes especially for my coach Tony for all the patience he has had with me and all the knowledge, technique and help he has given me.
Like most people, I come here thinking I knew pretty much everything about training hard.
Then Tony comes along and shows me a hundred new ways to do things better. The way he spiced up my workouts was unbelievable.
Everything here was amazing. I can't say enough good stuff about you guys. Love you Tony for all you have done for me. I'll definitely be taking The Forge back with me in my heart and in my workouts back in Oz.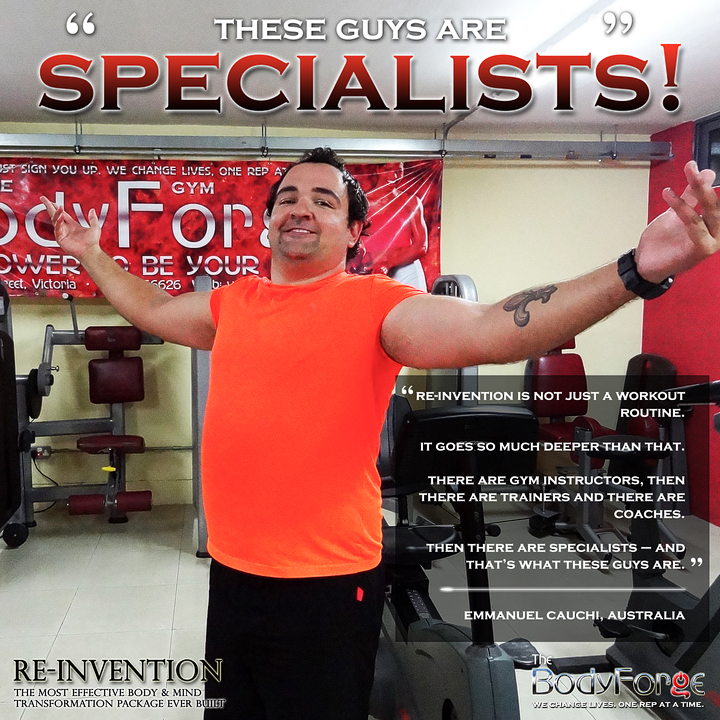 Comments
comments