Decadence Done Paleo Style
Let's face it – we all crave a little something oh-my-God yummy, every once in a while.
(Yes, even the best of us do. And some of us have more whiles than others. That's fair too.)
Well…psssttt!! Listen up!
A little secret we teach at The Forge is that having a little treat does not have to mean loading up on refined sugars and empty calories – and wrecking all our hard work and dedication in the quest for a healthy lifestyle.
Hell no sirree Bob!
We kin haves our cakes and eats its too!!!
So here is a recipe to make some seriously decadent chocolate brownies.
These things are definitely in the "orgasmic" category for all those of us who are sworn enemies of refined sugar.
I mean, as soon as you put these in your mouth, your taste buds will start moaning uncontrollably with unbridled pleasure.
That's because they are done in the Paleo style of food preparation.
(OK, so some smartass just told me Paleolithic folks didn't have brownies.)
(Seriously, do the trolls just grow around here, or do they commute over just to piss me off?)
Yes, these are brownies, done Paleo style.
And they are decadently delicious too.
I mean…mmm..mmm..MMMM delicious!!!
So if those Paleolithic buggers didn't have them, they lost out!
You don't need to lose out though.
Because here is how I do them.
TD4 CHOCOLATE BROWNIE RECIPE
Number of Servings
14 (only 4 when I eat it though, this serving size is for normal people)
Prep Time
20 Minutes
INGREDIENTS
½ cup unsweetened baking cocoa
1 ½ cups almond flour
8 oz. unsweetened dark chocolate, chopped
4 tbsp. coconut butter
3 free range eggs, beaten
1 cup organic honey
1 tbsp. vanilla extract
3/4 tsp. baking soda
1/2 tsp. salt
1 cup organic walnuts, chopped
INSTRUCTIONS
Making The Coconut Butter
If I can make coconut butter, you can make coconut butter.
There is really nothing to it. It contains just one ingredient (coconut) and all you need is a good food processor or a blender.
Use unsweetened, dried coconut, either shredded or flakes. The flakes often turn into a smoother butter than shredded coconut does. Do not use desiccated, sweetened, reduced fat or fresh coconut.
Put at least 200g of coconut flakes/shreds into your food processor/blender. Less than that and it's hard to get the right butter consistency.
Then be patient and blend, blend, blend, till it turns to butter. Voila.
Making The Brownie Mix
1. Coat the inside of your slow cooker with cooking spray then line the bottom with parchment paper. This will make it easier to remove the brownies when they are done.
2. Combine the almond flour, cocoa powder, baking powder, vanilla extract and salt in a small bowl. Set aside.
3. Heat the unsweetened dark chocolate, honey and coconut butter in a double boiler over medium heat. Stir gently and often until the chocolate is melted and the mixture is smooth.
4. Remove from heat and stir in the eggs. Stir in the flour mixture then fold in the walnuts. Do not over-stir.
5. Pour the batter into the slow cooker and spread it evenly.
6. Cover and cook on LOW heat for 3 ½ hours. Uncover and cook for an additional 30 minutes to create a crust on top of the brownies.
7. Cool completely before removing from the slow cooker to cut and serve.
Nutritional Information
330 calories, 216 calories from fat, 9g protein, 31g carbohydrates, 24g fat, 21g sugar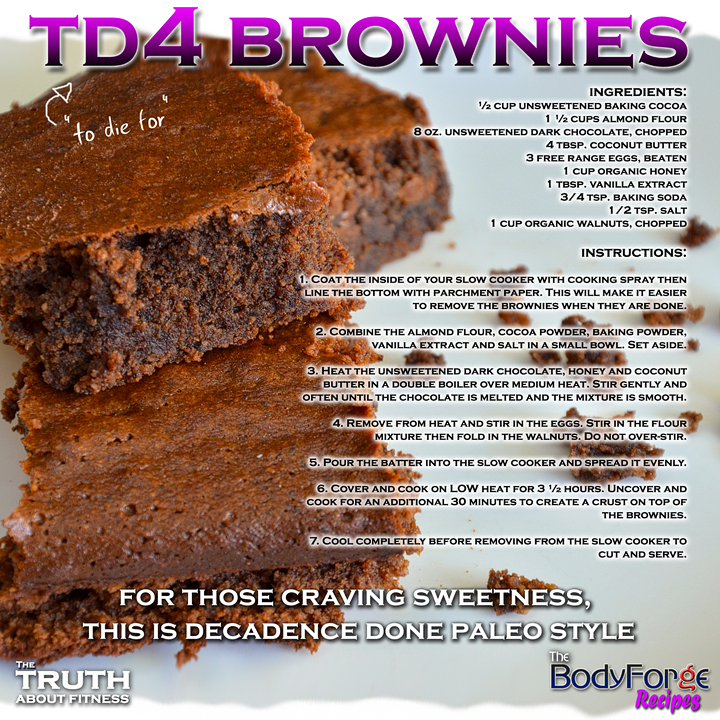 Comments
comments