YOU HAVE NO IDEA WHAT THIS IS
You think your pre-workout formula is pretty effective, right?
Good.
Keep it.
See that orange-coloured liquid in that bottle, sitting there pretending to be normal?
Don't be fooled for a second.
That's a BodyForge pre-workout. And like all things BodyForge, that is not a statement to be taken lightly.
So your pre-workout gives you some jitters and jingles and a bit of a flush. I know. I've tried all of them.
This, however…this is something else.
This stuff is liquefied dynamite. I can't even call it a pre-workout. This fluid has no business being anywhere outside the insulated nitro tank of a Formula One car.
Made in-house by our very own Dr Mike, using nothing but organic plants, this is based on an old recipe handed to us by a 95 year old gentleman who still looks like he could take on GI Joe and teach him a lesson.
I know it looks innocuous sitting there in the bottle but this stuff doesn't screw around. It's a potion that one of the nastier minions in Hell would cook up to give Satan a good time.
All it takes is a thimbleful (yes, that exact amount you can see in the cup) and I spend the next 15 minutes looking for where my training shoes and my socks have landed.
I'm not talking hype either. As soon as you knock it down (and knock it down you must, as the slightest hesitation would result in reflexive disaster), this stuff sears a ferocious bolt of fire right down into your stomach, making you gasp reflexively for your life even before it hits the pit of your belly.
It then takes a furious gallop around in a blaze of hellfire, and erupts upwards in a gleeful ball of flame, creating an incendiary inferno as it discharges out of your ears and the top of your head, disintegrating what is left of your mind.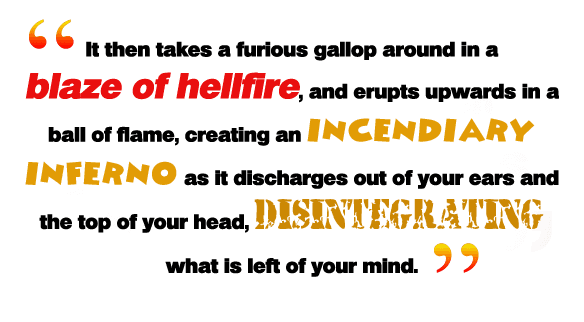 This is liquid lava. An unstoppable tornado. A titanic tsunami of fire and brimstone. Unbelievable stuff.
SO WHAT'S IN IT?
For starters, there is enough garlic in this to turn Dracula into a steaming pile of fluttering ashes if you blow him a kiss from across Main Street. No need to bother with the wooden stake. He'll just grab it and skewer himself through the heart if he sees you coming at 500 yards.
Think that orange color looks fun? That's ginger and onion that has fermented for several weeks. You breath near any painted objected with that funk on your breath, and your local paintstripper is out of a job. I completely ruined my Mum's new kitchen cabinet twelve hours after a shot of that thing.
There are other things stewing in there but this gives you the gist
One shot of this and you will sprout the gall and audacity to face an oncoming freight train. If this concoction were available back in the time of the Gladiators, one swig of this would have you hopping into the Colosseum yelling "Here, Kitty, Kitty!" as a horde of lions who had only eaten Corn Flakes and raisins for two weeks raced towards you licking their chops in expectant joy.
Honestly, I shared this out last week as an experiment and two of our middle aged clients hit puberty again.
This is cataclysmic shit.
Definitely looking forward to the next workout, with all the extra chest hair I am sprouting. Hell yeah!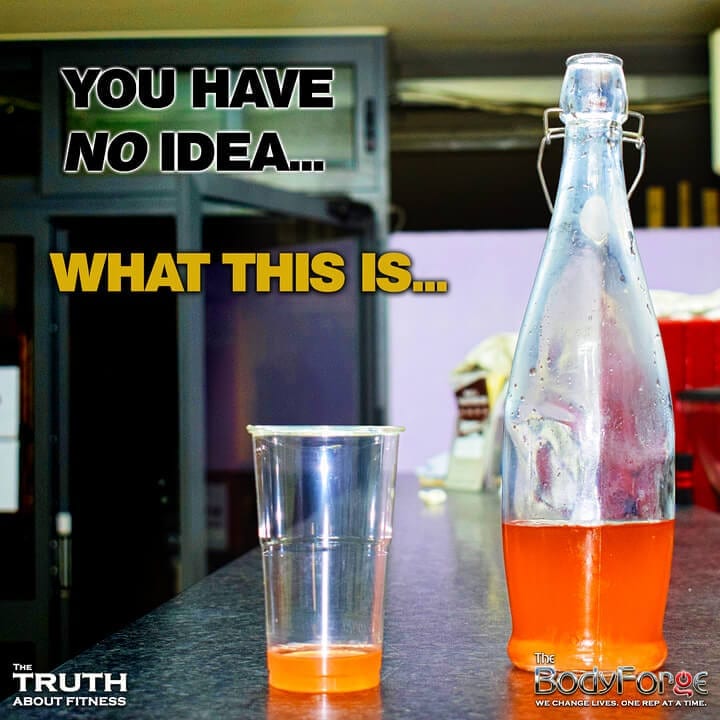 Comments
comments